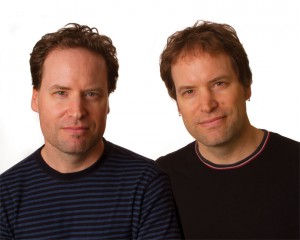 Zehnder is their last name. Twins Tom Zehnder and Tim Gibbs Zehnder currently compose, arrange, perform and record as an independent duo based in Los Angeles. Tim plays bass and doumbek, Tom plays guitar and djembe, and the two raise their voices together in elaborate duets.
Much of the time, the twins have the privilege of rounding out their band with cellist Adrienne Woods, drummer Mike Boggio and percussionist Emiliano Almeida.
Some of their more recent exploits include performing for the Anniversary Gala event held in Washington D.C. celebrating 100 years of Catholic Charities where Zehnder shared the bill with R & B legend Patti LaBelle. They also very much enjoy making a yearly pilgrimage to Ghost Ranch, New Mexico where they perform as well as teach a music class at the same Abiquiu ranch where painter Georgia O'Keeffe spent much of her career.
Raised in Los Angeles, the twins got an early start in music. Their father, the late John Zehnder was a multi-instrumentalist and head of the music school at McCabe's Guitar Shop in Santa Monica. Mother Elizabeth is an accomplished painter and poet. Both were folk singers in the 60's and made multipart singing a natural and fun family pastime. By the time their sons were ten, the twins were writing and singing together as a duo. Mostly self taught on their instruments, Zehnder freely moved between the "ear-playing" folk/rock world and a sight-singing, music-reading realm at school. As their compositional voices grew, they pursued and earned degrees in music composition from UCLA, both graduating summa cum laude.